Loading Please Wait...
An IT Company That Delivers Exceptional Flutter App Development Solutions
The skilled developers and programmers at KAVObits possess many years of experience and expertise in creating excellent Flutter apps that help enhance our clients' projects and operations.
Our developers are quite competent in Flutter SQLite. Additionally, they have experience with Restful APIs and SOLID principles.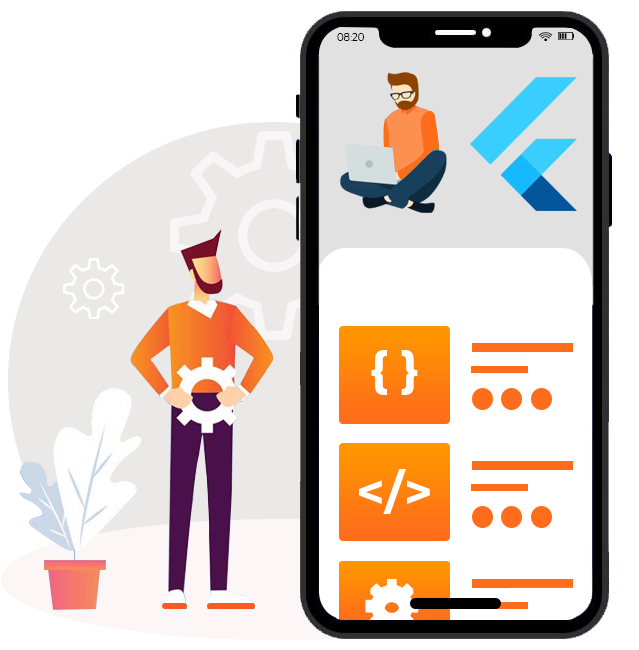 Our Flutter App Developers Expertise
Flutter app programmers build & deploy feature-rich scalable apps that ensure a delightful Native experience to users.
Personalized Flutter Consultation
We provide Flutter-related consultation services that are tailored to the needs and requirements of our clients. Use our services to create high-quality apps.
Cross-Platform Apps Development
Our Flutter app developers create applications and software that are capable of seamless cross-platform operations on different devices.
API Integration and Development
Our team of skilled Flutter developers are effectively able to integrate your APIs into the created apps all according to the goals and needs of your business.
Flutter Enterprise Apps
We create mobile apps for large-sized enterprises. These apps are secure, dependable, efficient and scalable.
Platform Migration To Flutter
Experience the benefits of Flutter through our re-engineering and migrating services. We can help you re-engineer and migrate your current apps to Flutter.
Intuitive & Flexible User Interface
Our developers create and build apps that have a self-descriptive, easily implemented and flexible UI.
Why Choose Flutter Framework To Build Mobile Apps?
Flutter ranks high among the top cross-platform development frameworks.
Flexible User Interface
Creating apps that can be customised to fit the look and feel of native apps is quite easy using Flutter.
Cross-platform App Development
Flutter allows the development of cross-platform functioning apps that can run all different devices seamlessly.
Fast Development Time
Flutter helps to build and create apps in a swifter timeframe when compared to other frameworks and platforms.
Rich Library of Components
Flutter has an extensive and comprehensive library of usable components that can be effectively utilized in the development of apps.
Seamless API Integration
You can effortlessly link your APIs into the app with Flutter, making it simple to get the data you require.
Support for Different Platforms
This framework supports various platforms including Android, iOS, and Windows. This means it can be used in app development for various platforms and devices.
Why Hire Flutter App Developers
Hire our talented team of programmers and get the benefit of their experience and their skill. Our programmers are qualified, reputable and vetted. When you work with us, you get the advantage of no contract lock-ins. You have oversight and control over your project, as it will be done according to your needs. Furthermore, our team will work with dedication to deliver the project on time. Also, in the spirit of transparency, we keep an open line of communication with you and give you the option to engage with us according to your requirements.
Experienced Flutter developers
Maintain oversight & control
Flexible engagement options
100% in-house staff
Transparency
No contract lock-ins
Hand-picked vetted talent
Hire Flutter Developers in easy steps
Outsourcing IT project with KAVObits is not complex. Here is the simple way to hire dedicated Flutter Developers to build quality solutions for your business.
1
Approach
Contact us to discuss your business objectives
2
Discuss
Discuss the project, its feasibilities, hiring model and cost
3
Build
Build your own team of developers; your choice, your selection.
4
Fund
Transfer money as per terms & conditions
5
Kickstart
The project begins immediately with milestones defined.
Flutter Developers
KAVObits gets you bespoke business solutions. Hire expert Flutter Developers at affordable costs
Hourly Based
No complexity – pay hourly, happily

Use hours as and when required

Enjoy flexibility – add hours any time

Monthly billing – no hidden costs
Fixed-Cost
Fixed amount – clear budget figure

Clear period of project completion

Ideal for projects with fixed scope

No setup fees – monthly billing
Dedicated
Flexibility unlimited – best model

Entire team works on only your project

Build your team – have total control

Flexibility to add or remove resources
Hire the best Flutter Developers at KAVObits to develop IT solutions that cater to your business needs. You can also have dedicated Flutter Developers experts at the helm for software maintenance. Contact us for technology consultation from our experts.