Loading Please Wait...
Best In Class India Based Java Developers
KAVObits provides dedicated teams of offshore/remote Java developers and programmers that are skilled and talented enough to build and create applications and software that are tailored to the needs and requirements of our client and their business. Our developers make sure to understand your core needs so that the final applications help you meet the challenges of your business.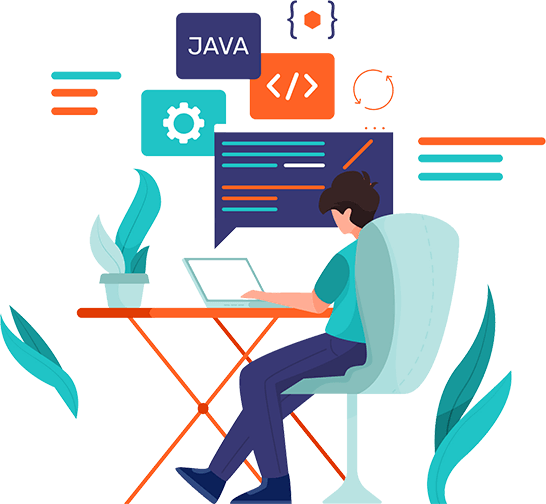 Why Choose Java For Building Your Web Solution?
High Performing
The JavaScript programming language is one of the most popular coding languages out there due to its ability to create robust, high-performance applications.
Cross-platform Facility
Java has the attribute of being platform-independent. This means that applications created using Java can be run on all operating systems.
Reliable
A vast community of developers and users trust to use Java which makes it a dependable platform.
Scalable And Secure
Java is scalable in nature and can handle more and more users without issues if necessary. Also, it is secure in nature as well, so even with more users, the platform will remain secure.
Stable
Large-scale apps and high-traffic websites can easily use Java as it is high-performing and stable and will run these apps and websites effectively.
Cost-effective
Java is an open-source platform, one can use it by downloading it at no cost.
Full Stack Java Developers For Quality Services
Our proficient Java developers work on the latest technologies, tools, and systems to deliver highly robust and secure applications swiftly and efficiently.
Custom Java Web Development
Our Java developers specialise in building applications & software for various types of businesses to help meet their needs and challenges.
Java Software Products (SaaS Applications)
Our developers create premium and high-quality Java software products for our clients. They specialise in building secure payment gateways.
Upgradation & Migration
We aid our clients in both upgrading their current software and apps or migrating them from their existing platform to another. Post-migration/upgrade we ensure that the software is running efficiently.
Develop Enterprise Java Applications
Our developer teams hold experience and expertise in creating enterprise-grade software that is reliable, scalable, flexible and user-friendly.
Java Consulting
We also provide Java consultants that are available to guide and aid our clients in planning and implementing technology strategies to face their business goals and needs.
AWS Cloud Offerings with Java
Our teams of developers are more than a match to meet your software needs. They are experienced and skilled in S3, SQS, EC2, Cloudwatch, ElastiCache, Redshift, DynamoDB, and other AWS services.
Why Hire JAVA Developers
As offshore/remote developers, your projects will be handled by us, but the control and oversight remain with you, our clients. We believe in being completely transparent and so, we offer flexible engagement options to our clients as well. You can choose how much you want to engage with us and choose when you want to be reported to. Additionally, you will have the aid of our entire in-house staff at your disposal.
Experienced Java developers
Maintain oversight & control
Flexible engagement options
100% in-house staff
Transparency
No contract lock-ins
Hand-picked vetted talent
Hire Java Developers in easy steps
Outsourcing IT project with KAVObits is not complex. Here is the simple way to hire dedicated Java Developers to build quality solutions for your business.
1
Approach
Contact us to discuss your business objectives
2
Discuss
Discuss the project, its feasibilities, hiring model and cost
3
Build
Build your own team of developers; your choice, your selection.
4
Fund
Transfer money as per terms & conditions
5
Kickstart
The project begins immediately with milestones defined.
Java Developers
KAVObits gets you bespoke business solutions. Hire expert Java Developers at affordable costs
Hourly Based
No complexity – pay hourly, happily

Use hours as and when required

Enjoy flexibility – add hours any time

Monthly billing – no hidden costs
Fixed-Cost
Fixed amount – clear budget figure

Clear period of project completion

Ideal for projects with fixed scope

No setup fees – monthly billing
Dedicated
Flexibility unlimited – best model

Entire team works on only your project

Build your team – have total control

Flexibility to add or remove resources
Hire the best Java Developers at KAVObits to develop IT solutions that cater to your business needs. You can also have dedicated Java Developers experts at the helm for software maintenance. Contact us for technology consultation from our experts.